5 Ways to Begin Loving Your Too Small Home
 Ok, this is one I know a thing or two about!  While my husband and I dreamed of the home where we would raise our family, it didn't come quickly or easily for us.  In fact, it took us YEARS of waiting before the Lord opened the door for us to move into the home we are in now.
Before that was our starter home.  While it was perfect for two newly weds, it became tight over the years as we added three children and a dog.  Over time I became frustrated and slightly claustrophobic.  We needed more space, but moving wasn't an option.
Loving my home had always been important to me, so eventually I realized, if I couldn't change my home, I would have to change my attitude.  I started looking at my current situation differently.  How could I work with what I had where I was?  Here's what I learned:
1.  Eliminate and Minimize (and make money doing it!)
The truth is we just don't need as much stuff (or space!) as we think we do. Go through bedrooms, closets, drawers and eliminate anything that isn't truly needed and loved.  This process may take awhile and may need to be often done, but trust me it's worth it!  Take those things to a local consignment store or sell online.  Things you can't sell, donate.  This was life changing for me.  I prefer living with less. Even now that I am in a much larger house, I continue to embrace a minimalist mindset, and it is so much more enjoyable (and so so much easier to keep clean).
Devol Kitchens
2.  Consider how your family is living NOW.
The way we use our home is constantly changing.  New careers, new additions to the family, new hobbies, etc. have a way of changing what we need in our home.  Sometimes we forget to make the changes necessary to make our house work most efficiently for us.  Spend some serious time considering your life and the life of your family NOW.  What does your daily routine look like?  What are you missing?  How can you make your home work better for you?  I'm talking function, not style.  Do you need somewhere to collect your toddler's toys?  A hook for your dog's leash?  More closet space?  A home office? Somewhere pretty to pour your morning coffee?  Write a list of what would be helpful in making your daily life run smoother.  Give yourself the freedom to veer from the builder's original intent for each room. Don't need a formal dining?  Make it your playroom/home office/ etc.  Also, don't be afraid to have your rooms serve two purposes.  Multitasking spaces are essential to maximizing every square inch out of your home!
Maine Home
3.  Clean and Organize.
Ok, this one should probably go without saying, but since it is so critical, I'm going to say in any way.  Clean and Organize!!!  I am not just talking about one time deep clean.  I am referring to a one time deep clean and then a routine to keep your home clean, neat and organized.  A place for everything and everything in its place. One thing I have found that works well is to set a timer for 30 minutes every day and just clean as much and as fast as you can.
Better Homes and Gardens
4.  Change it up! 
Now here's the fun part!  Remember the money you made selling all of your unnecessary junk?  Use it to freshen up your home and accomplish the wish list you created in #2.  The idea of investing time and money into a home I knew I was going to sell seemed silly to me and kept me from actually enjoying my home for years.  A word of caution- unless you have unlimited funds, be very thoughtful and wise with these purchases.
Here is where we spent our time/money (in a house that we were outgrowing and eventually planned to sell):
Paint –  It's the most bang for your buck.  Trust me, it won't add square footage, but it can change the entire feel of your space.
Apartment Therapy
Built ins– we knocked into walls to add bookcases and shelving.  Because Sean enjoys doing DIY projects, this was a great inexpensive way to add extra space for our things and create a custom look. If done well, this adds value to your home in the future while giving you much-needed storage now.
Domino
Beautiful mirrors and lighting – I had no idea what our next house would look like, so I didn't want to invest a lot in furniture/rugs/decor.   However, if you invest in great mirrors and lighting it will improve the look of your home now and can easily be taken with you when you move.  Lights and mirrors are also a great design element to invest in if you have small children (since they are almost entirely out of reach).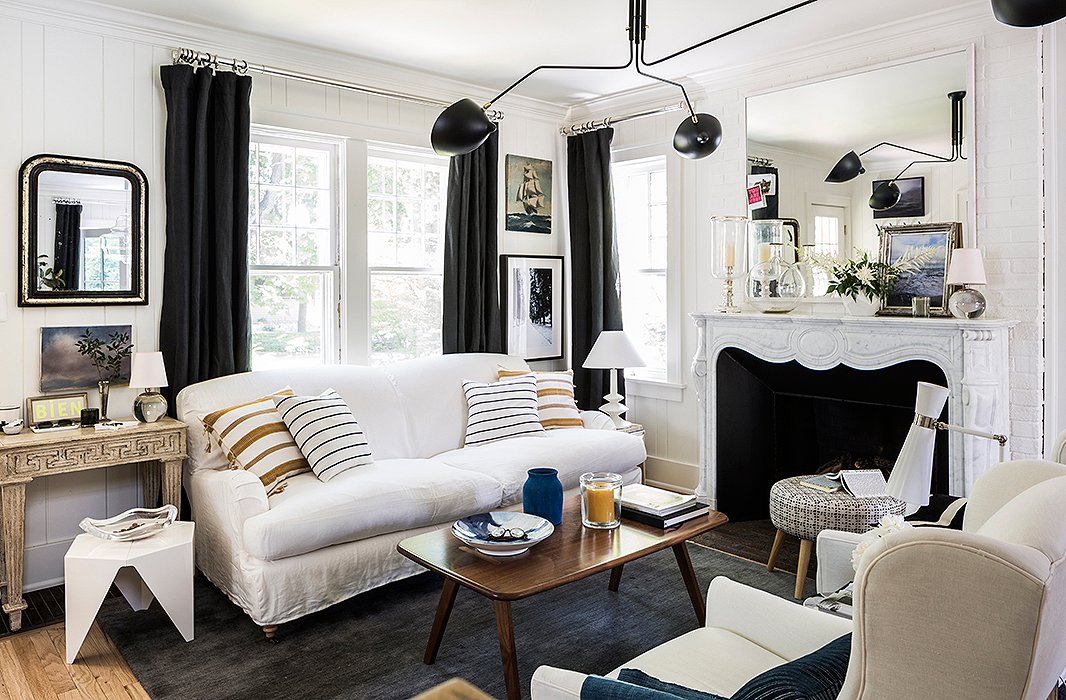 Michelle Adams
Closet systems  This was hands down the most expensive thing we did but was a major game changer.  We purchased the popular IKEA Pax system, and it was worth every penny. Not only did it give us a cleaner and more beautiful space in all of our closets, it truly gave us more room and allowed us to maximize the space we had.  Again, if done well, this will also add value to your home when you sell.
IKEA
5.  I saved the most important for last.
It's a tough one, my Pinterest loving friend, but I'm just going to say it.  Our contentment and joy are not meant to be found in things (and that includes our homes).  While you may be dreaming of that next house and struggling to be content where you are, don't fall for the lie of believing it will bring you true contentment and joy.  That only comes from Jesus!  Begin turning your eyes towards Him and ask Him to fill your home with joy and peace as only He can. Ask Him to give you a love for the home you are currently in. He did for me, and I know He will for you too!
---